3 Days In
Guides to Our Favourite Places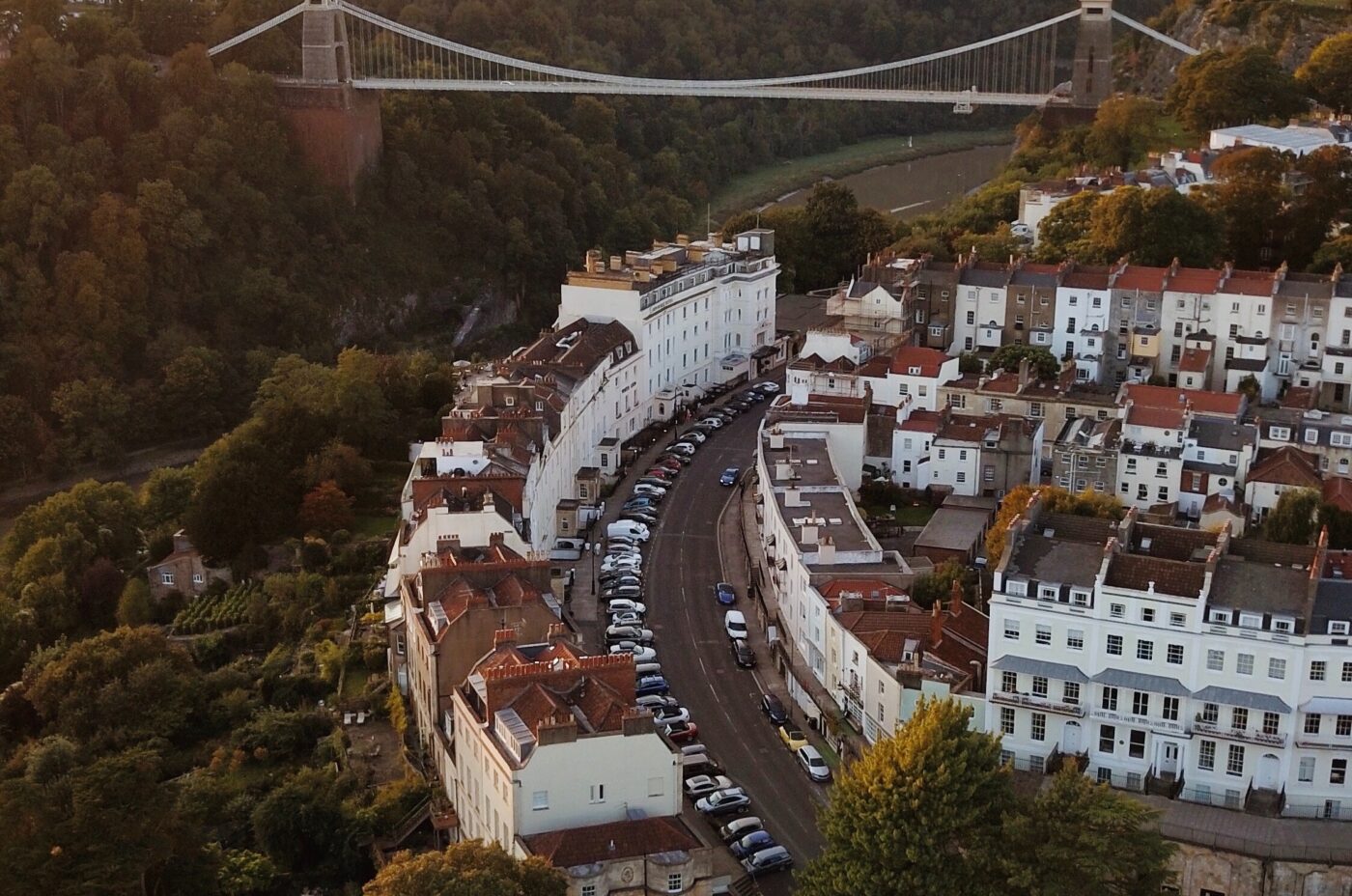 When you think of Bristol, you might initially think of a really nice bridge, Banksy, cider or hills, lots of hills. But, just under a 2 hour train journey from central London, Bristol is one of the South West's best, filled with unique culture-packed pockets. In fact, it's easy to overlook Bristol really, as it shines in the smaller non-showy details. Unpretentious, quirky and quietly confident, Bristol knows its worth. Littered with an intriguing hodgepodge of colourful pastel dwellings, Michelin star restaurants, contemporary art galleries and more independent shops than you can shake a stick at. It is a city that is a breath of fresh air, not least because it's Britain's green capital, but every year it always seems to find itself on one of the many happiest places to live lists. Oh, and you are on the doorstep of South Wales and the beautiful Wye Valley too.
If there is one way that we think you should spend your time in Bristol, it is to eat and drink your way through it. And, not only is the variety of food fantastic, but the setting is just as unique. Over the years, Victorian warehouses have been transformed into craft beer tap rooms, local restaurants have found homes in shipping containers, and almost every cafe is no stranger to a potted plant or 10. It's a city that tugs on your heartstrings and fills your belly with all of the good stuff. So, to spend your 3 Days In Bristol, it's time to follow your tastebuds.
______________________________________________________
DAY ONE
MORNING
THE CRAFTY EGG
First off, have your breakfast or brunch at The Crafty Egg. This cool, calm and collected eatery is filled with homely furnishings and hearty dishes. Here, the classic full English breakfast is made better. Think cheesy baked eggs and loaded brunch bagels.
AFTERNOON
BANKSY TOUR & ARNOLFINI
Now, this is the perfect time to do something a little touristy. By touristy, we mean the Bansky tour of Bristol. No stranger to satirical street art in general, Bristol is always proud to be known as Banky's birthplace, and rightly so – Banksy is equally proud to be a Bristolian too, often returning to the city and using it as his canvas. Before you start, get a coffee to go after brunch; we recommend FED, Farro, Burra Bristol, Coffee Under Pressure and Pinkmans for a cut-above caffeine kick to accompany you on your Banksy street art journey. 
If this culture craving wasn't enough then pay a visit to the Arnolfini and Spike Island. The Arnolfini is an international centre of interdisciplinary arts with a rotating programme of art, film, dance and music, and Spike Island is an international contemporary art studio, helping to support those near and far in the arts. Visit in the summer and you will see the very best of Bristol harbour too. Get a takeaway pint, take a seat on the street and watch the world go by. Or, if you are here in the winter, the cosy Christmas Steps pub and critically acclaimed independent cinema The Watershed are just a short stroll away.
And when hunger strikes, this side of the city is a great place to be. Whilst the best things are always left a little unplanned, head to St Nicks Market for a vibrant affair of street food stalls for a late lunch.
EVENING
DINNER AT NADU, POCO TAPAS OR BOKMAN
For dinner, head back towards the direction of The Crafty Egg, and find yourself spoilt for choice with Nadu, Poco Tapas and Bokman. We tried to choose between the three but they are just so good in their own way. Nadu is a Sri Lankan and Tamil restaurant with zesty cocktails, zingy dishes and a buzzy atmosphere. It's seriously delicious. If you are after something more intimate, Poco Tapas, is a nose-to-tail, root-to-fruit tapas bar with delightful dishes and sustainable restaurant credentials to match. Bokman is a cosy restaurant with traditional homecooked Korean dishes, from Galgusku and knife cut noodles with clams to Tongdak whole roast chicken. The matcha and chestnut tiramisu is also not to be missed.
For drinks, Bristol is no stranger to a speakeasy prohibition bar and in this city there are plenty. Some of our favourites include Hyde & Co, Milk Thistle, Red Light, and Her Majesty's Secret Service.
OTHER OPTIONS
IPA lover and local food residency fan? Head to The Left Handed Giant and The Scrandit. Skin contact wine seeker or pining for pasta? Have a glass or two at Marmo then head next door to Pasta Ripiena for seriously silky tortellini.
______________________________________________________
DAY TWO
MORNING
CLIFTON VILLAGE
It's time to traverse Bristol's topography and take a long walk to Clifton Village, one of our favourite places for people watching. Here, you will find cream Georgian townhouses, homely pubs, and antique shops neatly lined up in a row. Whilst you are on route, pick up some Italian food goodies for a picnic and a coffee from Papadeli, and take time to pop into the vintage dress boutique, Ashwell & Co.
For breakfast, station yourself at The Primrose Cafe, a pedestrianised cafe that rubs shoulders with "Reg the Veg", the locals favourite fruit and vegetable shop. Take your pick  from herby green pancakes with whipped feta, huevos rancheros or the full monty. After your fill, scour the pretty Victorian Clifton arcade or find yourself in Otomi, a brightly coloured traditional Mexican goods shop just next door.
AFTERNOON
CLIFTON SUSPENSION BRIDGE
Now it's time for another tourist-must – the Clifton Suspension Bridge. And If you think it's time for a tipple, the best seats in the house are on the terrace at the White Lion Avon Gorge Hotel. Particularly popular in summer, make sure to get there in good time.
Afterwards, find a good spot on the Clifton Downs, next to the Clifton Observatory is always a winner and unpack the Papadeli goodies for a scenic picnic.
OTHER OPTIONS
Whilst you are in Clifton, another local loved spot is the Coronation Tap, aka the Cori Tap. This humble hub is great for the most well-versed of cider drinkers, but it also is just the place if you want to sample one of the South West's most famous tipple. 
Visiting in summertime? Head to the Bristol Lido. This tranquil spa, outdoor swimming pool and restaurant has served an exclusive local crowd for years and it's just the space to root yourself when you want a cool dip on a hot day.
EVENING
WILSONS
A trip away always means you should eat somewhere special, and Bristol has become quite the hotspot for Michelin star munchies and Good Food Guide picks. Enter here the non-showy but incredibly special eatery of Wilsons, an independently owned bistro with garden-grown vegetables and regenerative farming ethos. Each day there is a new tasting menu, all inspired by seasonal ingredients, and with a wine flight to match. Whilst no day is the same, past menus have included chocolate mousse with potato ice cream, sashimi style mackerel, venison and cardamom puree and Japanese skin-contact wine. 
OTHER OPTIONS:
Wilsons has some equally delicious neighbours. Snobby's is a relaxed wine bar with a diverse selection of wines, served alongside Italian small plates and on select nights, life drawing too. On the other side of Wilsons is Little Hollows Pasta, a recent addition to the Bristol food scene. Their sample menu includes cuttlefish ragu and roasted tomato agnolotti, with small plates of River Tiegn mussels and burrata.
And, for the Michelin star recommendation, consider Bulrush and their 7 course tasting menu. Cheese ice cream sounds like something out of a Willy Wonka, but at Bulrush it's just the 5th course. 
______________________________________________________
DAY THREE
MORNING
GLOUCESTER ROAD
For your final morning meander, go to Gloucester Road, one of the longest independent high streets in the UK. Here it's bustley, bohemian and undeniably Bristolian with vintage and independent boutiques, second-hand record stores, and eco-lifestyle shops. It kind of feels a little like Camden and Brick Lane, but less overwhelming. The shops you should definitely pop into are Fox and Feather,  The Ottowin Shop, Gloucester Road Reclamation Yard and Food Shop Bristol. 
Now, whilst Gloucester Road is one of those streets where you can easily while away the hours you must save time to visit  The Cave. This compact but perfectly formed wine bar and shop stocks small-scale sustainable producers, and hosts wine tastings as well as pop-ups with other small Bristol food businesses and chefs. Previous residents include The Bristol Oyster Co and Ah Ma's dumplings. Who doesn't want to have a glass of sparkling wine with a salted duck egg custard bao?
AFTERNOON
CHEDDAR GORGE & THE ETHICUREAN
It's time to head out of the city, and visit one of the South West's most scenic spots, Cheddar Gorge. Here, you can take long walks, buy some cave aged cheddar, and – if you fancy it – doing some caving and rock climbing. 
On the way back, have a pit stop at The Ethicurean. Here, this acclaimed restaurant is its own wonderland with an emphasis on slow eating and living. All produce is home grown within their walled garden, and you get views of the rolling Mendip Hills whilst you eat. It's difficult to get a booking here, so you will need to plan far in advance, but it's worth the extra effort. 
EVENING
SONNY STORES
Just in case you weren't already full, Sonny Stores in Bedminster should be your final pitstop. Just like much of Bristol, the menu is filled with seasonal and local produce but with an Italian zing. Feast on potato bread, chicken liver pappardelle and pistachio brown butter tartlets. But, the pizzas are great too. ______________________________________________________
WHERE TO STAY